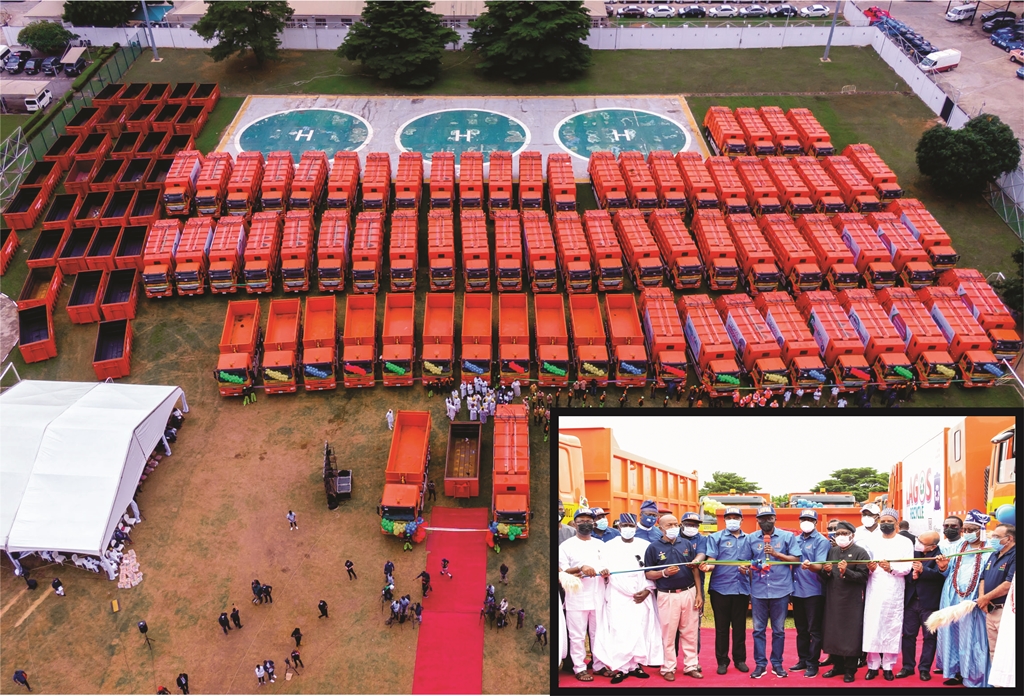 Date:

04 Aug, 2021

Local Government:

Ikeja

Project Type:

Health & Environment

Status:

Completed
CLEANER LAGOS: SANWO-OLU LAUNCHES 102 LOCALLY ASSEMBLED COMPACTOR TRUCKS, 100 DINO BINS TO BOOST WASTE COLLECTION
Project Summary
•Unveils Mobile Apps to Check Illegal Waste Disposal in State
•Governor Urges Residents to Repay Gesture with Prompt Payment of Waste Bills
An unprecedented intervention has been put forward to address logistical and operational shortfall in collection of waste across Lagos State.
Governor Babajide Sanwo-Olu, on Wednesday, bolstered the fleet of the Lagos State Waste Management Authority (LAWMA) with 102 units of brand new locally assembled compactor trucks and 100 units of double dino waste bins in a bid to reduce turn-around time in waste evacuation within the metropolis, thereby achieving cleaner and healthier environment.
Governor Sanwo-Olu inaugurated the compactor trucks at an elaborate event held at the State House, Alausa, and witnessed by stakeholders in the waste service sector, including Private Sector Participants (PSP) operators.
The assets comprised 30 units of 12-cubic meter trucks, 60 units of 24-cubic meter trucks and 12 hook loaders. They will be complementing over 850 PSP compactor trucks to enhance service delivery in under-served communities across the State.
The compactor trucks were assembled by LAWMA technicians in conjunction with Dangote Sinotruk Manufacturing firm. They are designed according to the local requirements to aid clearing of waste from generating points to transfer-loading stations. Each compactor truck has three years warranty and maintenance package.
Besides, the Governor formally launched a mobile application called "CitiMonitor", which would enable monitoring and reporting of environmental infractions, including indiscriminate dumping of refuse.
Sanwo-Olu said the new waste collection machinery were not being deployed to edge the PSP operators out of the business. He noted that the compactors would make trips only to public places and major roads to take waste, while the PSP operators would continue with their commercial and residential waste collections.
He said: "Today, we are unveiling new equipment that will enable LAWMA to effectively fulfil its mandate. This is testament to our administration's determination to secure the public and environmental health of the State, as well as to improve the aesthetic value of the environment in line with Health and Environment pillar of our T.H.E.M.E.S agenda.